Introduction
The Société de Biologie de Strasbourg (SBS) celebrates its 100th anniversary in 2019!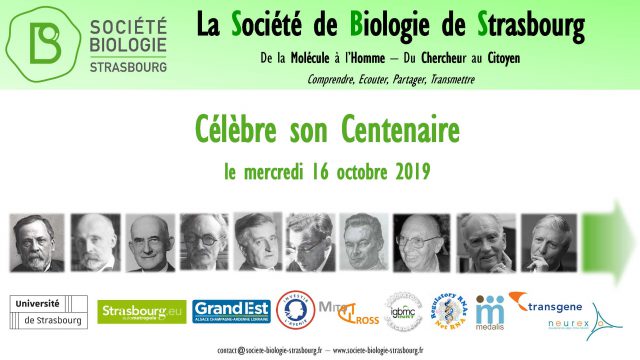 Over the last century, the SBS has accompanied the profound transformation of research in biology and medicine.
Our centenary is an opportunity to highlight this rich heritage.
Among the various events that our Society organizes throughout this year 2019, the SBS Centenary Day will be a highlight of our festivities.
This Centenary Day will be held on Wednesday, October 16, 2019 on the campus of the University of Strasbourg, 100 years to the day after the first meeting of the SBS on October 16, 1919.
This Centenary Day will bring together actors from the academic, institutional and industrial circles of research in biomedicine in Strasbourg, Alsace and beyond.